Welcome to AMA Center at AUTOMATION India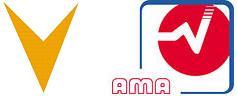 AMA Center for Sensors and Measurement
at the
AUTOMATION 2013
23 - 26 September 2013, Mumbai, India


The AMA Verband für Sensorik und Messtechnik e.V. (AMA Association for Sensors and Measurement) will be presented with an information stand at the  AUTOMATON 2013 - 8th International Automation Exhibition and Conference in Mubai, India for the second time.
The AMA Association plans to organize an AMA Center at the AUTOMATION 2014. This community stand will once again be an ideal platform for a successful market entry as well as for the maintenance of existing business contacts in one of the most dynamic economies of the world.
Our services - your advantages
- Benefit from our extensive service package -
We will offer you an individual participation and service package and will support you in your prearrangement and postprocessing of the show. 
You are interested in participating? Then do not hesitate to contact us. 
Print